Roof of 4-storey block of flats inspected for damage in Sunbury-on-Thames, Surrey in under an hour
Last month we were commissioned to perform a preventative-maintenance roof inspection of a block of flats in Sunbury-on-Thames, Surrey. Although the client had initially asked us to use our drone for the inspection, they were unaware of the restrictions that govern where drones can and cannot be used. As this flat was in a busy neighbourhood with roads, cars and other blocks of flats on all sides, we suggested using our fully-portable 50-foot telescopic mast instead. 
Mast aerial photographs of the roof of a block of flats in Sunbury-on-Thames, Surrey. Our high-resolution imagery allows every tile and gutter to be visually inspected from the comfort of a computer. Click to enlarge. 
The block of flats was 4 storeys high, which presented no challenge for our mast. The mast was erected at all four corners of the building, allowing clear views down the gutters on each side, as well as allowing all the roofing tiles to be inspected for damage. The work was completed in under and hour and the manager of the flats now has peace of mind that the roof is in a safe condition and that the gutters are clear of leaves and other debris. 
Not only did the client get all the imagery they required, but using the mast instead of the drone saved them some money too. Using the mast also saved inconveniencing the local residents – had the drone been used, it would have been necessary to temporarily close / marshal nearby roads, and inform all residents within the flying zone of the drone activity outside their property. At Horizon Imaging we are always straight-forward and honest with our clients and always offer the simplest and most economical solutions for their needs. Our client was so pleased with our service, that they recently sent us this kind testimonial: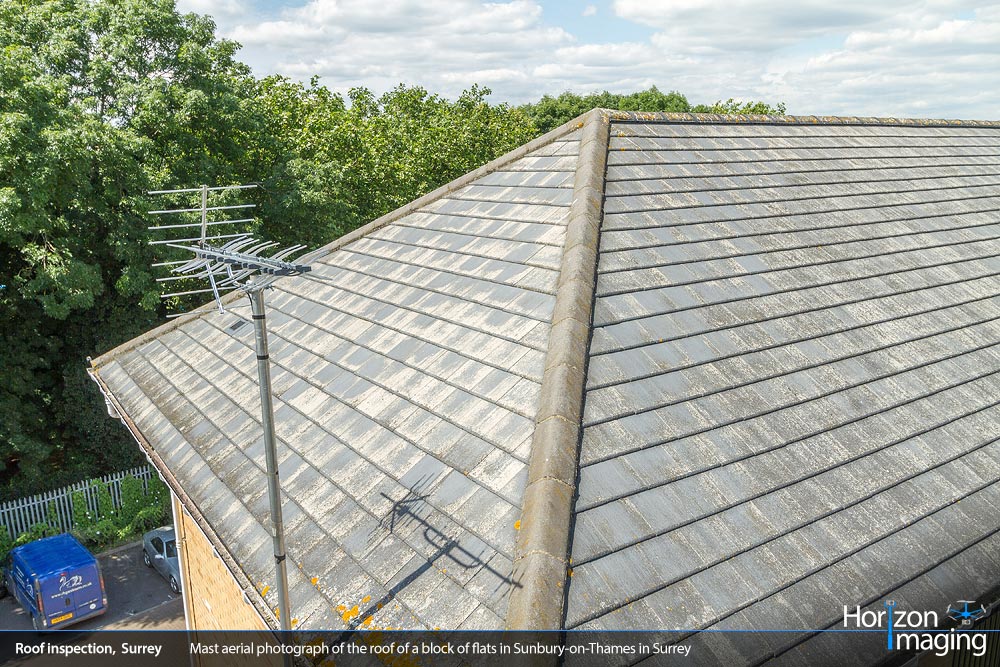 "As managers of a block of flats in Sunbury-On-Thames, we engaged Horizon Imaging Ltd to take a number of photos to allow us to inspect the roof and gutters. We were assured by David that the number of photos and the quality would allow us to achieve our objectives. On the day, David was on time, and allowed us to check a few pictures before proceeding to finish the job. True to his word, the pictures allowed us to inspect the roof and gutters fully, and from several angles. We found him very pleasant, friendly and professional. We have no hesitation in recommending him, and will certainly engage his services next year to inspect the status of our roof!" — The RTM Company
Do you own or manage blocks of flats, an office block or industrial units and need to have the roof inspected? Give us a call today about our mast and drone aerial inspection services!