Property Virtual Tour Services
Matterport Virtual Tours are a fantastic way of exploring buildings and environments from the comfort of your computer, tablet, smartphone — or even Virtual-Reality (VR) headset! 
By capturing both still photographs and depth information looking in 360 degrees around each camera location, stitching the imagery together and then adding interactive elements, Matterport Virtual Tours give the viewer a much more immersive experience than photographs or videos ever could. 
Are you looking to give your customers an immersive and interactive experience and a unique new way to explore your attraction / property?
Maybe you are trying to differentiate yourself from other property marketing companies by making your property viewing experience far more engaging and interactive? 
Perhaps you are keen to add virtual tour tablets to the ground floor of your attraction to allow disabled visitors to explore other floors of your attraction if they are not easily accessible? 
Or do some of your clients struggle to view your properties as they live too far away, and you're keen to let them explore your properties remotely using an interactive virtual tour first? 
Unlike most traditional virtual tours, the Matterport system provides two unique ways of viewing a virtual tour, the 3D "Doll's House" and "Walk-Through" views, as explained below: 
The 3D "Doll's House" View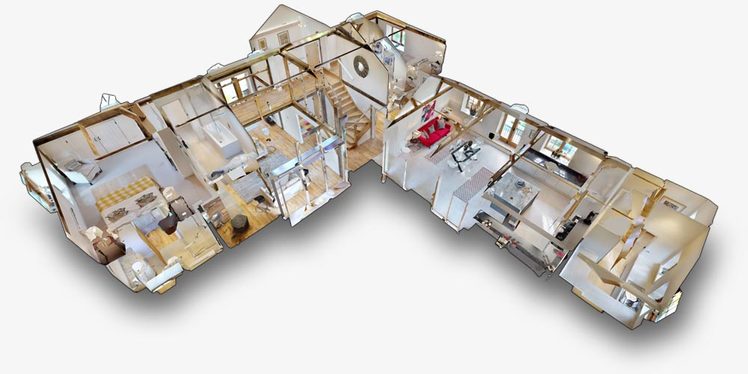 This unique viewpoint allows an entire property or site to be viewed as a 3D model with its roof and walls removed — literally as if you'd partly dismantled an actual doll's house! This model can be rotated, tilted, zoomed into, and then once you're ready to start exploring, simply click on a room in the property and you'll be dropped inside!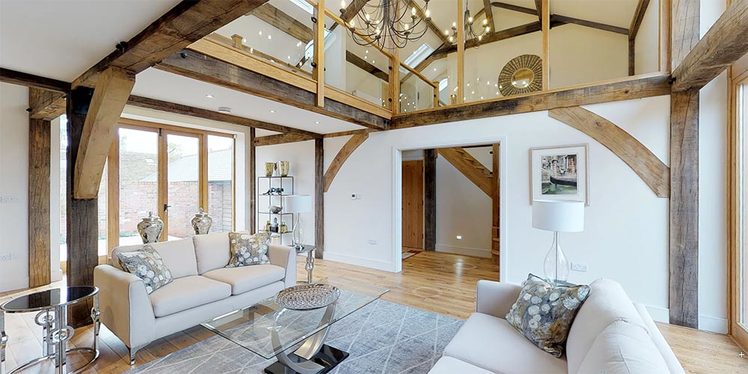 The more traditional walk-through virtual tour is made more fluid and realistic by combining 3-Dimensional depth information about each room (the data which produces the overall "Doll's House" model) with ultra high-resolution photographic imagery which allows you to look in almost every direction as you move around the property. 
Example Matterport Virtual Tour
Below you will find a perfect example of how a Matterport Virtual Tour can help to promote a property for sale. 
We photographed this stunning converted barn near Midhurst in West Sussex for Estate Agent Jackson-Stops & Staff, and whilst on site we captured this Matterport Virtual Tour of the property as well. This tour was subsequently used in marketing the property, allowing potential buyers to have a thorough look around the property remotely before committing to viewing it for real. 
To explore the model, follow these simple instructions: 
Click on the play button to load the Matterport Virtual Tour 

Click the full-screen icon at the bottom right of the viewer to enter full-screen mode 
When in the 'Doll's House' viewing mode 
Click and drag using the left mouse button to rotate the model 

Click and drag using the right mouse button to shift the model horizontally and vertically 

Click once in any part of the model to jump to that room 
When in the 'Walk-Through' viewing mode 
Click and drag using the left mouse button to look around and left-click within the room to move in that direction 

You can jump back to the 3D model at any time by clicking on the 3D building icon at the bottom left of the viewer 
Additional bolt-on services for Matterport Virtual Tours
As well as the truly unique 3D-model view and the walk-around virtual tour, we're also able to offer a number of other products as part of our virtual tour packages. These include: 
Traditional black and white dimensioned floor-plans, accurate to within 1% of reality (see below) 

Coloured floor-plans, showing all the furniture in-situ (see below) 

Floating interactive hotspots which can trigger pop-out text-boxes, images, videos or links to other virtual tours  

.XYZ point cloud and .OBJ mesh files for importing directly into BIM modelling software 
Black and white dimensioned floorplan and colour photographic floorplans — unique add-ons available with our new Matterport virtual tour service
VR-compatibility of Matterport Virtual Tours
All our Matterport Virtual Tours are fully compatible with the latest VR headsets which use a smartphone as the screen — this includes the Samsung VR Gear, Google Cardboard and Google Daydream to name but a few — immerse yourself in an unparalleled virtual world and look around it as if you were there! 
All our Matterport Virtual Tours are compatible with common virtual tour headsets which use your smartphone as the screen — this includes the Samsung VR Gear, Google Cardboard and Google Daydream devices 
Further benefits of Matterport Virtual Tours include:
All photographic imagery is blended from multiple exposures (a technique called High Dynamic Range imaging) which retains detail in both very bright and very dark areas, guaranteeing a more natural look and feel to the panoramas. 
Tours are optimised for viewing on any device — be it a computer, tablet or smartphone web-browser.
Tours can be viewed offline on tablets or smartphones which do not have an internet connection (eg. interactive exhibits in a museum or historic house). 
Information pops can be used to display video, audio, photos and text content to further enhance the interactivity of the tours. 
If you haven't used a Matterport Virtual Tour company before, you're in safe hands with Horizon Imaging. We have a track record of exceeding our customers' expectations and providing excellent customer service from start to finish. You can read some of our clients' feedback below or on our dedicated Testimonials page.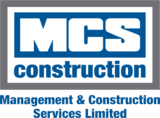 "We have now commissioned Horizon Imaging on a couple of projects. The quality of the imagery and the service we've received is First Class! For our recently completed Farnham Mill Nursing Home Project, the aerial images, video and our particular favourite the Virtual tour have enabled us to really showcase our work."
Matterport Virtual Tours offer an immersive and interactive way for your clients to walk around your site from the comfort and convenience of their computer, tablet or smartphone. So whether you own a hotel, leisure centre, bed and breakfast, museum or other tourist attraction, consider taking advantage of our state-of-the-art Matterport Virtual Tour technology and take your visitor experience to a new level. 
If you would like to know more about our Matterport Virtual Tour service, please get in touch with us today using any of the details below!
Or complete the form on the right and we will be in touch within 24-48 hours.
Thank you for your time and we look forward to hearing from you!