Thinking of starting your own drone photography business? Read our guide here
We were recently consulted about what it takes to start and run a successful drone aerial photography business by the money advice website '
Money Magpie
'. The following article was written by our Director, David Hogg, as a guide for someone who likes the idea of using drones to make money, but doesn't know where to start, and it covers topics from equipment selection to business strategy, to our own experience of the explosion of demand (and supply) of drone-related services. There's also some history about the formation of Horizon Imaging and how it all began back in 2007 when David built his first drone from scratch! 
So grab a coffee, and enjoy the article! 
Background and dismembered Nintendo Wiis
Drone aerial photo of Claremont Fan Court School in Esher, Surrey. Click to enlarge. 
Drone aerial photo of Guildford Cathedral, Surrey. Click to enlarge. 
My route into the drone industry ultimately started way back in 2005 after being inspired by the 'Aerial Photography' sub-group of the RCGroups online forum. Intrigued and amazed by the possibilities of being able to capture aerial photographs from model aircraft (a hobby I had been pursuing for the previous 7 years) I built my first 'drone' in December 2005 – a 1.5m-wingspan electric glider with space in the fuselage underneath the wing to hold a small 7 megapixel pocket camera, pointing out to one side. The camera sent a live video feed via an onboard radio transmitter to a screen on the ground which allowed me to see exactly what the camera was seeing as the plane hurtled around the sky. 
After some practice, I took the photograph of Claremont Fan Court School in Esher, Surrey shown above– or rather, this was one of the few decent photos out of the 300+ photos on the camera's memory card following the short flight (the camera was set to take photographs continually every few seconds)! This image remains one of my favourite aerial photographs to this day, and having sold a copy of the image to the school in 2006, I believe it is still in use today, some 12 years later. 
This sparked my imagination as to the possibilities of taking aerial photographs from converted – or dedicated – model aircraft. Over the following 7 years, whilst completing a Batchelors degree in Electronic Engineering and working 5 years as a full-time engineer in the avionics industry (the last 3 of which were for a drone Research and Development firm), I developed and refined numerous platforms for taking aerial photographs. These evolved from conventional electric model helicopters which I retrofitted with damped camera gimbals and larger batteries, to the now-ubiquitous multi-rotor 'drones' with even numbers of fixed-pitch propellers, most commonly 4, but often 6, and sometimes even 8, 10 or 12! Incidentally, these multi-rotor drones actually evolved on forums such as RCGroups, where modellers started cannibalising Nintendo Wii handsets to extract their motion sensors, hooking them up to micro-controllers, speed controllers, motors and propellers to create the now-familiar drone platform (indeed, my first multi-rotor drone was a three-propeller 'tricopter' with a dismembered Nintendo Wii handset at its heart!). Once large companies like DJI started refining and mass-producing these systems, the drone as we know it today was born! Anyway, I digress … 
During this 7 year development period I started undertaking the occasional commercial shoot for companies who had found my website on Google, and for contacts I'd made in the construction and property industries. In 2009, the UK Civil Aviation Authority introduced a requirement to obtain a licence for undertaking any form of commercial work with drones – then called a 'Permission for Aerial Work', and now called a 'Permission for Commercial Operations'. This involved proving pilot competence (in the form of passing a suitable model-aircraft flight exam, and now also including an element of workshop-based training), arranging suitable third-party insurance, as well as writing an Operations Manual detailing how operations will be carried out and how risks will be analysed and mitigated (in the form of a Risk Assessment). I was granted my Permission for Commercial Operations in 2010, with licence number #46 – at the time of writing there are now over 3,500 registered commercial drone operators in the UK!
Competition and where to begin
Drone aerial photo of rape fields near Abinger Hammer, Surrey. Click to enlarge. 
Drone aerial photo of Ashdown Park Hotel in East Grinstead, West Sussex. Click to enlarge. 
The biggest challenge for any new business is how to break into an existing industry. When I first started undertaking the occasional commercial aerial photography shoot, drones were still a very new concept, and companies were generally intrigued by the perspectives that drones could offer when I contacted them out of the blue offering drone aerial photography services. These days however, virtually everyone has heard of drones and what they can do, most people have seen drone imagery before (if not on social media, then without knowing it in films and on TV), and a growing number of people even own them! This has made it correspondingly more difficult to get your name known in an industry that has seen meteoric growth over the past 5 years. 
Therefore, my advice would be to take the same route into the industry as I did 10 years ago – make it a slow, gradual process over a period of many months (or even years), and whatever you do, don't simply give up your existing job on a Friday and start your drone photography business on the Monday with no website, no strategy or portfolio to show for it. 
Portfolio and how to start one
Drone aerial photo of Aldro School, Godalming, Surrey. Click to enlarge. 
Drone aerial photo of The Windmill B&B in Thurleigh, Bedfordshire. Click to enlarge. 
In today's image-centric world, where websites, magazines and social media are crammed full of photographs (be they aerial or ground-level), what is going to make you stand out from the competition? For me, if I'm looking to collaborate with another photographer on a project, the first thing I'll do is look at their portfolio of existing work. This will immediately give me an idea of a) their photographic ability (both technical and aesthetic), b) how long they've been around (eg. have they got a gallery of 5 or 50 photos), and c) their experience across multiple sectors (eg. are all their photos of the same style of subject, or is there a diverse variety of subjects). 
Of course, no-one can magic sample images out of thin air, but this is why spending a serious amount of time building a portfolio will set you far ahead of those who haven't even created a website to showcase their work, let alone taken the time to produce some compelling sample imagery. Sorry, I forgot to mention that you need to have a website before anything else, otherwise no-one will be able to find you, or see what it is you have to offer! 
So, how can you start building a portfolio? It could be as simple as photographing the homes of your friends' and family, finding interesting subjects to photograph in the countryside like churches, windmills, monuments, and so on. This is how I started, and it taught me a great deal about how to take compelling aerial photos. The following aspects are key: 
The direction of the light 
The direction from which the photos are taken 
The time of day 
The position of the subject in the frame 
The amount of sky you include in the image 
The size of the subject in the frame 
The way you post-process the photos afterwards 
These aren't things that you can fully grasp in the click of a finger – they have to be learned over time, through photographing numerous different subjects and finding out what works best for each scenario. It come from hours of practice and experimenting – and often making mistakes, but then learning from them. So go out and start finding subjects to photograph now – the sooner the better! 
Training and getting your CAA 'PfCO'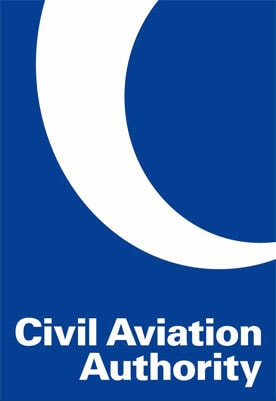 The CAA have regulations governing all users of the air — including drone pilots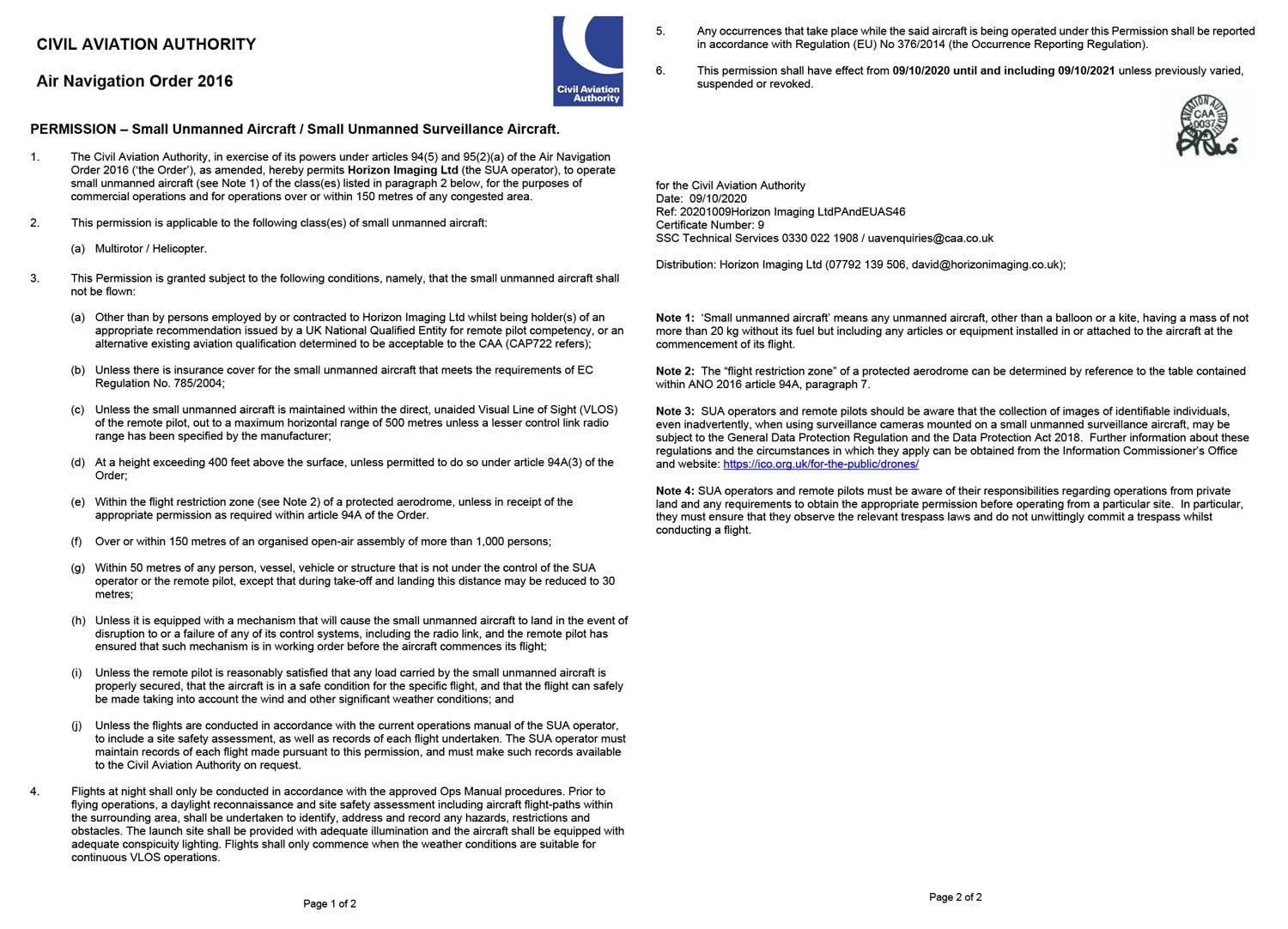 Our CAA 'Permission for Commercial Operations' 
Whilst starting to develop a portfolio, the next essential task is to become a CAA-licensed drone operator – to obtain your 'Permission for Commercial Operations' (PfCO). This is a legal requirement for undertaking any form of commercial / paid work with a drone in the UK – whether that's providing an aerial photography service to end customers, or using drones within your own company to give you a commercial advantage (eg. if you are an estate agent, you have to hold a CAA PfCO licence in order to use a drone to take aerial photographs of the properties you are marketing). There are three steps involved in obtaining your PfCO: 
Complete a training course (including ground-based theoretical training as well as a flight assessment) with a recognised NQE (National Qualified Entity) 
Obtain suitable third-party insurance to cover your drone operations 
Write an in-depth Operations Manual detailing the platforms you intend to fly, your operational procedures, platform maintenance procedures, and methods for assessing and reducing the risk in your operations (including providing a sample Risk Assessment) 
Submit the above evidence to the CAA along with the application fee of £173 and within 28 working days you should receive your PfCO! 
There are a number of NQEs who provide the necessary training to become a licensed commercial drone operator in the UK. These include: 
The courses provided by these NQEs will obviously differ slightly in their structure and delivery, but they will all provide you with the training and assistance you need to successfully apply for your PfCO, including sourcing insurance, and helping you to write your Operations Manual. Courses are available across the UK and start from around £600. 
Annual insurance premiums will vary depending on the amount of equipment you need covered, but they'll typically be in the region of £400-1000. It also costs £130 to renew your PfCO licence with the CAA on an annual basis. 
Equipment — What should I buy?
Our DJI Inspire 2 drone after completing a roof inspection of The Malls shopping centre in Basingstoke, Hampshire. Click to enlarge. 
Our Inspire 1 Pro drone after completing a marketing photo shoot of a new development near Puttenham, Surrey. Click to enlarge. 
Before your can apply for the training course to become a licensed commercial drone operator, you will need … a drone! There are literally hundreds of different options on the market, but in my experience it's hard to go wrong with one of DJI's platforms. Founded in 2006, DJI have been a key player in the commercialisation of drone technology since the platforms evolved on internet forums back in the early 2000s. Their products have slowly evolved from very basic quadcopters (which had a fixed camera mount for a GoPro – sick bag not provided for the nauseatingly wobbly fisheye footage!) through to the very latest cinema-grade turnkey packages with class-leading camera and gimbal technology which have been used on many of the latest feature films. DJI offer platforms for every price bracket, from their diminutive palm-sized Spark through to their professional Inspire and Matrice fully-customisable drone platforms. 
Having owned their Phantom 3 Pro, Mavic Pro, Inspire 1 Pro and Inspire 2 platforms, I would suggest an ideal platform to start with is the latest version of their Phantom, the Phantom 4 Pro. This latest evolution of the Phantom has a 20 megapixel fixed-lens camera with a 1-inch sensor which captures incredibly sharp images with low noise and a high dynamic range, and is supported in a 3-axis gyro-stabilised gimbal, meaning the camera stays perfectly level no matter how aggressively the drone is flown. The capability of these modern DJI platforms is incredible, and they continue to evolve, with enhanced object recognition, automated flight and object-avoidance features being introduced with every new revision. The Phantom 4 Pro would make an ideal platform to launch your own drone aerial photography business. 
Drone aerial photo of a football pitch in Whyteleafe, Surrey. Click to enlarge. 
Drone aerial photo of Team Consulting's headquarters near Cambridge, Cambridgeshire. Click to enlarge. 
My general rule of thumb when buying equipment is that you should only upgrade to a more expensive model if your current model is starting to restrict you in some way. For example, the Inspire 2 that I use predominantly these days has the advantage over the Phantom series that it can take interchangeable lenses. Whilst I use a wider-angle lenses for the majority of my work, if I need to inspect the roof of a building, or I need to photograph a subject that's a long distance away, I can switch to a lens with a longer focal length – you can't do this with the Phantom. Similarly, the Inspire-series of drones have camera gimbals which can be operated independently of the drone itself, meaning I could fly the drone whilst a separate camera operator controls and points the camera – an ideal setup for complex tracking shots. The Inspire camera produces images which are more than sufficient (in terms of resolution and clarity) for the types of client I'm currently working with. If I were to start working with different clients that demanded higher resolution imagery, this would be the point that I upgrade to a different platform with a higher-resolution camera – not before. At the end of the day, why use a £50,000 drone and camera rig to supply your clients with 100 megapixel imagery, if they're only ever going to use <1 megapixel images on their website? Choose your equipment based on the clients you want to serve. 
Drone aerial photo of Storrington Tennis Club, West Sussex. Click to enlarge. 
Drone aerial photo of a private 30m diameter vegetable garden near Petersfield, Hampshire. Click to enlarge. 
The most important factor for any drone operator (whether or not they're doing it commercially) is safety – your own safety as well as that of those around you. The finer details of this will be explained during the ground-school section of your training, but it's worth pointing out the key regulations now so you're aware of how these restrictions will affect where you can fly your drone. 
All the regulations governing drone use can be viewed in the CAA's document, 'CAP 393 – The Air Navigation Order 2016 and Regulations'. Specifically, articles 94, 95, 240 and 241 pertain to drone (or 'small unmanned aircraft') operations which read as follows, in part: 
94. Small unmanned aircraft 
(2) The person in charge of a small unmanned aircraft may only fly the aircraft if reasonably satisfied that the flight can safely be made. 
(3) The person in charge of a small unmanned aircraft must maintain direct, unaided visual contact with the aircraft sufficient to monitor its flight path in relation to other aircraft, persons, vehicles, vessels and structures for the purpose of avoiding collisions. 
(4) The person in charge of a small unmanned aircraft which has a mass of more than 7kg excluding its fuel but including any articles or equipment installed in or attached to the aircraft at the commencement of its flight, must not fly the aircraft— 
(a) in Class A, C, D or E airspace unless the permission of the appropriate air traffic control unit has been obtained; 
(b) within an aerodrome traffic zone during the notified hours of watch of the air traffic control unit (if any) at that aerodrome unless the permission of any such air traffic control unit has been obtained; or 
(c) at a height of more than 400 feet above the surface unless it is flying in airspace described in sub-paragraph (a) or (b) and in accordance with the requirements for that airspace. 
(5) The person in charge of a small unmanned aircraft must not fly the aircraft for the purposes of commercial operations except in accordance with a permission granted by the CAA. 
Drone aerial photo of a private home near Haslemere, Surrey. Click to enlarge. 
Private farm estate near Fernhurst, West Sussex. Click to enlarge. 
95. Small unmanned surveillance aircraft 
(1) The person in charge of a small unmanned surveillance aircraft must not fly the aircraft in any of the circumstances described in paragraph (2) except in accordance with a permission issued by the CAA. 
(2) The circumstances referred to in paragraph (1) are— 
(a) over or within 150 metres of any congested area; 
(b) over or within 150 metres of an organised open-air assembly of more than 1,000 persons; 
(c) within 50 metres of any vessel, vehicle or structure which is not under the control of the person in charge of the aircraft; or 
(d) subject to paragraphs (3) and (4), within 50 metres of any person. 
(3) Subject to paragraph (4), during take-off or landing, a small unmanned surveillance aircraft must not be flown within 30 metres of any person. 
(4) Paragraphs (2)(d) and (3) do not apply to the person in charge of the small unmanned surveillance aircraft or a person under the control of the person in charge of the aircraft. 
(5) In this article, "a small unmanned surveillance aircraft" means a small unmanned aircraft which is equipped to undertake any form of surveillance or data acquisition. 
240. Endangering safety of an aircraft 
A person must not recklessly or negligently act in a manner likely to endanger an aircraft, or any person in an aircraft. 
241. Endangering safety of any person or property 
A person must not recklessly or negligently cause or permit an aircraft to endanger any person or property. 
Drone aerial photo of a property development near Chichester, Hampshire. Click to enlarge. 
Drone aerial photo of part of the Sompting Estate near Worthing, West Sussex. Click to enlarge. 
As you can see, these are quite exhaustive, and they can seriously restrict where drones can be flown, particularly in built-up environments. However, these regulations are in place (and are enforced by the CAA and the Police) for the safety of the public. Furthermore, providers of drone insurance stress that their insurance is only valid if these CAA regulations are strictly adhered to – if you fly your drone outside of these regulations and woe betide something were to happen and it injures someone or causes damage to property, your insurance will not cover the damages. 
It is worth noting that article 95 (2a) is removed for commercial operations, and that article 94 (3) is quantified for commercial operations to restrict drones of any weight from flying more than 400 feet above the ground, as well as from flying further than 500 metres from the pilot horizontally. It is my understand that this 400 foot amendment is shortly due to become law, regardless of whether the drone is flown commercially or not. 
Whilst these regulations are restrictive, it by no means prevents the use of drones in built-up environments, it just increases the amount of planning that is required to successfully complete a shoot. The bottom line is that everything within 50m of the drone (whilst it's flying, 30m whilst taking off and landing) has to be under the control of you, the operator. This means not flying closer than 50m to busy roads where you're not able to control the flow of the traffic (or prevent cars from entering the flying area), not flying closer than 50m to areas where members of the public are walking around and could stray into the flight area, not flying closer than 50m to buildings if you have no control over people entering or leaving them, etc. 
At the end of the day, if something goes terribly wrong and your drone falls out of the sky, injures someone and you end up in court, they will ask you to prove that you did everything in your power to mitigate the risks of such an event occurring – which basically means, did you strictly abide by the CAA regulations? If you can categorically say yes and provide proof, then the court may look favourably on the situation. Obviously I hope this never ever happens for you, but it shouldn't be underestimated that, as the drone operator, you have sole responsibility for the safety of your operations, which includes mitigating the risks to nearby members of the public – even if it means simply declining the work if you cannot find a way to undertake the work safely. 
Drone aerial photo and CGI building montage showing a proposed Lidl supermarket in Hersham, Surrey. Click to enlarge. 
Drone aerial photo of a private house near Ewhurst, Surrey. Click to enlarge. 
Creating a pricing structure for drone aerial photography – or any creative profession for that matter – is fraught with difficulties, mainly because there are so many variables involved: 
How much experience do you have? Have you just started out, or have you been working in the industry for 20 years? 
What type of equipment do you use? Do you have a 5 megapixel compact camera, or a 50 megapixel full-frame Digital SLR? 
Have you earned a professional reputation that means clients are willing to pay more for your services than those with a lesser reputation? Compare a world-famous portrait photographer like Annie Leibovitz to someone who's just started taking portrait photos. 
What type of clients do you serve, and do you have specialist knowledge for working with these clients that others don't have? Big commercial companies are usually willing to pay more than private individuals. 
Do you work on your own from a spare bedroom, or do you work in an office with the associated overheads? If you have lower overheads, you can afford to offer more competitive pricing, whilst still covering your costs. 
Do you restrict the usage of your images, and charge separately for applications which have greater exposure, eg. billboards or use in high print-run magazines? 
Do your prices include pre-shoot site visits, travel and image editing? Or do these incur additional charges? 
Do the clients you intend to work for require you on site for an hour at a time, or days at a time? Do you want to do fewer larger jobs, or more smaller jobs? 
… and so on! As you can see, there's more to creating a pricing structure than meets the eye. That said, let's say that it's not uncommon for day-rates of single-man drone operators to be around the £800-900 mark, and 2-man operators to be around the £1500 mark. This often won't include travel and editing either. Although my day rates do fall within this price bracket as a single-man operator, most of my current work tends to involve less than one hour on site, for which I charge £395 + VAT. Image editing and travel are then additional fees on top of this. 
Drone aerial photo of a soil remediation site in Portsmouth, Hampshire. Click to enlarge. 
Drone aerial photo of Woodcote Park Golf Club in Coulsdon, Surrey. Click to enlarge. 
All this considered, be very careful not to undervalue yourself by trying to undercut everyone else. Yes there is value in charging less if you have less experience, or perhaps even doing the first shoot for a new client for free if you don't have a solid portfolio of work for them to base their expectations upon – at least that way there's no risk to the client if they don't like the work you produce. But simply undercutting everyone else in the market has more serious ramifications that you might think – not only does it become considerably less likely that you will be able to create a profitable and sustainable business, but it also devalues the service of aerial photography as a whole. Imagine if everyone consistently undercut everyone else, as in the following example. 
Let's say an aerial photography job that was worth £500 (which clients were happily paying for) was undercut by someone offering to do it for £450 and the client went with the cheaper provider to save some money. The next time the client found someone willing to do it for £400 … and the time after that it was £300, and then £150, and then £100 … suddenly the value of providing an aerial photography service has fallen by a factor of 5. If this strategy was repeated by all operators across the industry, suddenly aerial photography services have become an almost-worthless commodity which people are no longer willing to pay for. Ok so this is an extreme example, but it's worth bearing in mind that the undercutting mentality is very short-sighted and may well lead to the failure of your own business as well as causing damage to the reputation of the aerial photography industry as a whole. 
So, to start working out your rates, follow these basic steps (and this list isn't exhaustive): 
Work out what you want to earn through your business 
What costs are involved in your operation (including the cost of new equipment, annual insurance and CAA licence premiums, office overheads, marketing costs, etc)? 
Forecast how many jobs you expect to be able to do per year, per month, per week (remember it's not always sunny and the weather isn't always conducive to flying drones!) 
Calculate your rates based on this – and stick to them! 
You'll soon realise if you've pitched yourself too low or too high for your target market, and remember, it's always easier to reduce your prices than to increase them – so start high and lower them if necessary. 
Drone aerial photo of a wedding ceremony in Send, Surrey. Click to enlarge. 
Drone aerial photo of a wedding reception near Chichester, West Sussex. Click to enlarge. 
The drone aerial photography marketplace is becoming saturated at an incredible rate. As I mentioned earlier in the article, when I gained my PfCO back in 2010 there were only 45 other commercial drone operators in the UK. 8 years later and the number of people / companies who have registered as commercial operators has passed the 5,500 mark … but interestingly, as of December 2017 there are only ~3,500 active companies who are still licensed – that's an incredible 36% failure rate of companies who thought they could make a success from using drones commercially, but for one reason or another, were unable to succeed and so didn't renew their licences. 
Running a successful business using drones is so much more than just buying a drone and flying it around the sky – I would estimate approximately 25% of my time is actually spent flying drones, the rest is spent on developing the business, finding new clients, attending networking events, writing content for my website, doing the image editing, doing all the admin tasks and paperwork, and so on. That's not to say it's impossible to start a drone aerial photography business tomorrow which will be successful, and if you have the right mindset, a clear goal of what you want to offer, how you will monetise it and how you will stand out from the ever-increasing number of competitors, then I'd say go for it! 
A well-known photograph editing company, ShootDotEdit has been in touch with us to express an interest in sharing material between our respective websites, and we're more than happy to share the following link to their excellent, in-depth guide to starting a wedding photography business. Their article goes into great detail, particularly in terms of setting goals to grow the business, and I highly recommend you take the time to read it:
ShootDotEdit article on starting a wedding photography business.
If you're completely new to photography, it's worth checking out this introduction and top tips article on the website 'PhotographyTouch':
Photography for Beginners
. 
We've also been approached by Pixpa who have written a great article about how to go about planning a drone aerial photography shoot. Their article features some amazing drone photos the Dronstagram 2016 photography competition — check our their blog post here:
How to Use Drones for Aerial Photography
. They've also written this very useful article about how to start a photography business — check it out!
How to start a Photography Business
.