Telescopic mast brings new dimension to squash training at Surrey Sports Park, Guildford
Have you ever wondered what it would be like to view a sports game from above to analyse how the players are moving? Perhaps you're a coach of a football or rugby team and want to help improve your players' performance by pointing out their mistakes on slow-motion video taken from an aerial perspective? 
This is exactly what we did with Jesse Engelbrecht, squash coach at the Surrey Sports Park and owner of the Jesse Engelbrecht Squash Academy. 
As a trial to gauge the potential benefits of filming squash games from above, we set up our fully-portable telescopic mast directly in front of the court, with the mast just touching the ceiling and the camera pointing down into the court. By using the remote-control gimbal and a wireless video monitor, the camera could be pointed very precisely to maximise the area of court captured in the video. High speed footage was then recorded of a couple of games at 100 frames a second, allowing the video to be slowed down 4 times without it becoming jerky, and allowing the trajectory of the ball to be easily followed. 
Click on the play button on the right to watch some of the slow-motion video we captured during the course of a few games of squash. 
Jesse was impressed by the completely new perspective provided by our mast, and he recently sent us the following feedback: 
Click on the play button above to watch some slow-motion clips of a squash game taken from the top of our telescopic mast. Click on the rectangle symbol at the bottom right to watch it full-screen.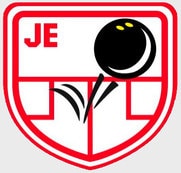 It was great to work with David and see my pupils playing squash from a completely new perspective. Being able to see the whole court from above in slow-motion presents some fantastic opportunities for providing my pupils with very specific advice on how they are moving around the court, how they are positioning their racquets for each shot and ultimately how they could improve their technique. Coaches can become even more empowered with this type of filming and I believe this technology could have a very positive impact on the speed of a player's development. Pupils respond well to visual stimuli and the ability to watch their movements in such fine detail and slow motion is fantastic. I'd highly recommend coaches to get on board with technology such as this, and I for one will be employing it more and more moving forwards for my coaching practises.
The mast
is just one of the tools at Horizon Imaging's disposal for providing elevated video services. We also fly fully-stabilised cameras on our fleet of
radio-controlled drones
, allowing entire football or rugby games to be filmed in high definition from directly overhead. 
Are you a professional sports coach or the captain of a local sports team? Are you looking for a unique way to improve the range of coaching tools you can offer your players?
Give us a call today
for a chat about the benefits of our aerial filming technology.