Roof of 3-storey house inspected for source of water ingress using telescopic mast in Redhill, Surrey
Horizon Imaging was recently contacted by a homeowner in Redhill, Surrey, who needed some aerial photographs taken of his roof, which had been suffering from severe water ingress. 
Whilst the homeowner had originally asked for a quotation for surveying the roof using our drone, due to to the property's location (on a busy crossroads, surrounded by other houses), we informed the client that it would not be possible to use the drone due to the strict Civil Aviation Authority regulations governing the use of drones in congested areas. So instead, we quoted for surveying the roof using our fully-portable 50-foot telescopic mast. 
The following morning we visited the site and positioned our mast at the four corners of the property and took photographs looking down onto all four sides of the roof. It was immediately apparent that not only were most of the rain gutters blocked, but so were the 'valleys' between adjacent roof faces, and there was also no lead flashing around the chimney!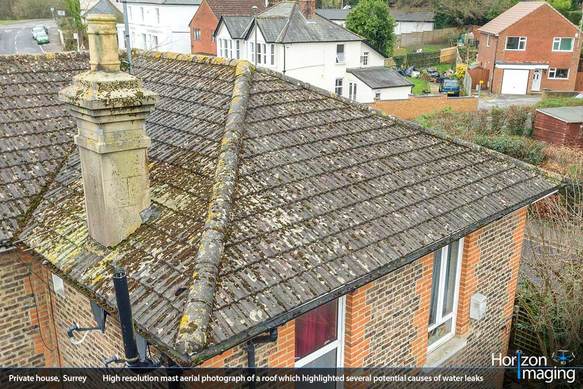 Mast aerial photograph of the roof of a house in Redhill, Surrey. Notice the complete lack of lead flashing around the chimney, which was undoubtedly one of the causes of the water ingress inside the house.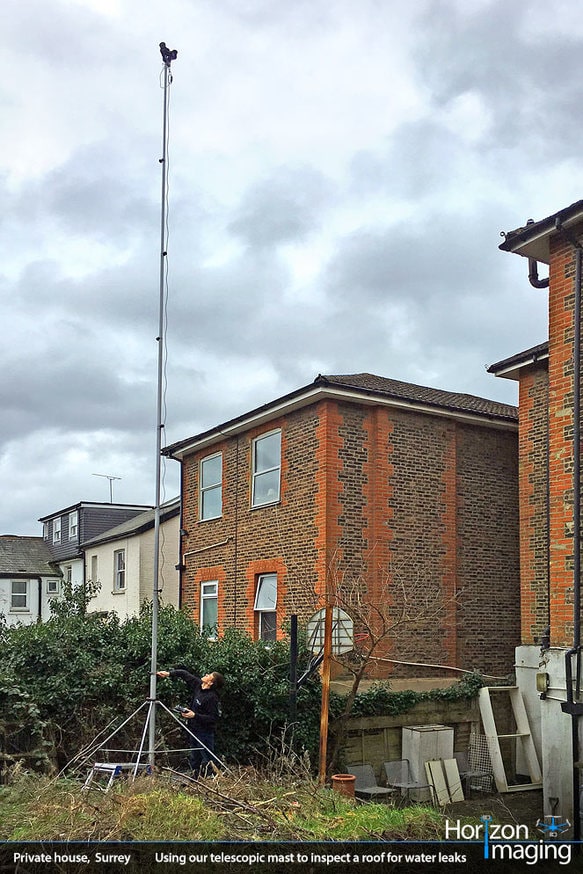 Our telescopic mast taking a survey photograph of the roof of a house in Redhill, Surrey. 
The client was very pleased with the resulting imagery, which not only provided him with photographic proof of the condition of the roof (to refer to when getting quotes from roofing companies to repair the problems), but it also saved him a great deal of money compared to having scaffolding towers erected on all sides of his house to carry out a simple inspection. He recently sent us this kind testimonial about out services: 

I have been having serious water leak issues with my roof recently (I live in a large six-bedroom, three storey Victorian house), and as I was reluctant to pay many hundreds (at least) to have the whole house scaffolded just to establish the cause of the leaks, I searched on the internet for commercial drone operators. I came across David at Horizon Imaging who promptly answered my enquiry, and said that whilst he wouldn't be able to use his drone to inspect my property as it was too close to built-up areas and roads, he could use his 50-foot telescopic mast. David came to my property the following morning, and took a series of elevated shots of my roof which instantly highlighted several areas of concern (no lead flashing around the chimney, blocked gutters, etc). I was thrilled with the speed of David's services as he sent the processed images across to me later that afternoon – less than 24 hours after I first contacted him! David's professionalism and competence with technology was great to see and I would have no hesitation in recommending his services to others." 

Do you need a cost-effective survey of the roof of your house or commercial building? Do you need photographic evidence of the condition of your building's roof for insurance or tenancy / leasing purposes? Drop us a line today and we will explain how we can use our drone and / or mast to capture all the imagery you need at an affordable price.