Another beautiful countryside wedding filmed from the air with our drone in Send and Chiddingfold, Surrey
At the end of July we were commissioned to film another beautiful Surrey wedding from the air with our drone. This time the wedding ceremony was held at the idyllic St Mary The Virgin Church in Send, Surrey, and the reception at a large private estate in Chiddingfold, Surrey. 
Once again, the ability of our drone to fly discreetly above the event as it unfolded below has provided the couple with a unique and lasting perspective of their big day. The aerial video perfectly complements the professional photos taken at ground level which offer a close-up and intimate record of the day. By contrast, the drone captures everything else – the surrounding countryside, the scale of the event, and those little hidden surprises which can only be seen from the air – watch to the end of the video to see what I mean! 
Click on the play button above to watch a wedding film shot entirely with our drone at St Mary The Virgin Church, Send, Surrey and a private home in Chiddingfold, Surrey. Click on the rectangle symbol at the bottom right to watch it full-screen. 
Drone aerial photographs from the wedding ceremony in Send, and reception in Chiddingfold, Surrey  
After sorting through all the video clips, assembling them into a chronological sequence, synchronising the scene changes with the royalty-free backing music (which we helped the client to choose), the final finishing touches of the initial background photograph and overlaid text were added to complete the film. Shortly after sending the video to the client, they sent us the following kind testimonial: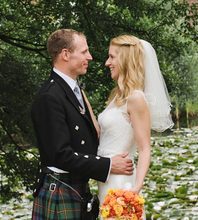 "We are absolutely delighted with our wedding video by David at Horizon Imaging. On the day David provided a discrete and professional service, and he sent us the final video a lot faster than we anticipated. His aerial shots of the church and wedding reception are unique and just so novel, and now we have a gorgeously nostalgic video memory of the best day of our lives. Thank you ever so much, we would definitely recommend you!" – Jennifer and Duncan 
Do you know someone who is getting married in a spectacular location who loves the idea of having an unobtrusive aerial film produced of their big day? Perhaps you would like to give them a professionally captured and edited aerial film as a wedding present? Drop us a line today and we'll be happy to discuss the idea with you!