Animated progress photographs document scaffolding erection in Princes Risborough, Buckinghamshire
Horizon Imaging is currently documenting a 12-week scaffolding erection project at St Teresa Of The Child Jesus church in Princes Risborough, Buckinghamshire. Every 7-10 days we are visiting the site with our 50-foot telescopic mast and taking elevated progress photographs which will form part of an animated slideshow showing how the scaffolding has been erected. 
As our mast is fully-portable, the progress photographs are taken from areas that would be hard to access with traditional vehicle-mounted masts including pavements and a small car park. By erecting the mast in the same position each visit, the movement of the church relative to the background is kept to a minimum, allowing the newly erected scaffolding to be clearly visible in the animated slideshow. Click on the thumbnail with the play button above on the right to view a looped animation comprising imagery from our first three visits to the site. 
Do you regularly undertake long-term projects and wish there was a way to compress an entire projects into a few seconds of video?
Drop us a line today
to see how we can help capture time-lapse imagery of your next project!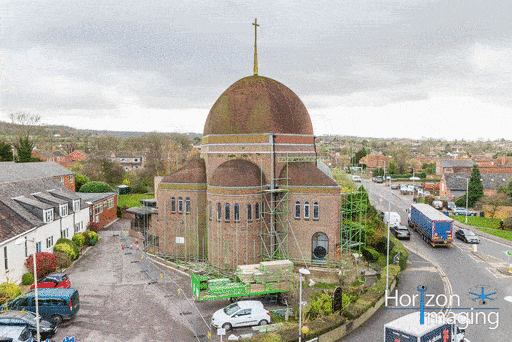 Animated GIF showing the first 3 sets of progress photographs taken with our mast at a church in Princes Risborough, Buckinghamshire. 
Please note the animation may take between 5 and 20 seconds to appear after you click this thumbnail, depending on your internet connection speed (image filesize: approx. 4.5MB)